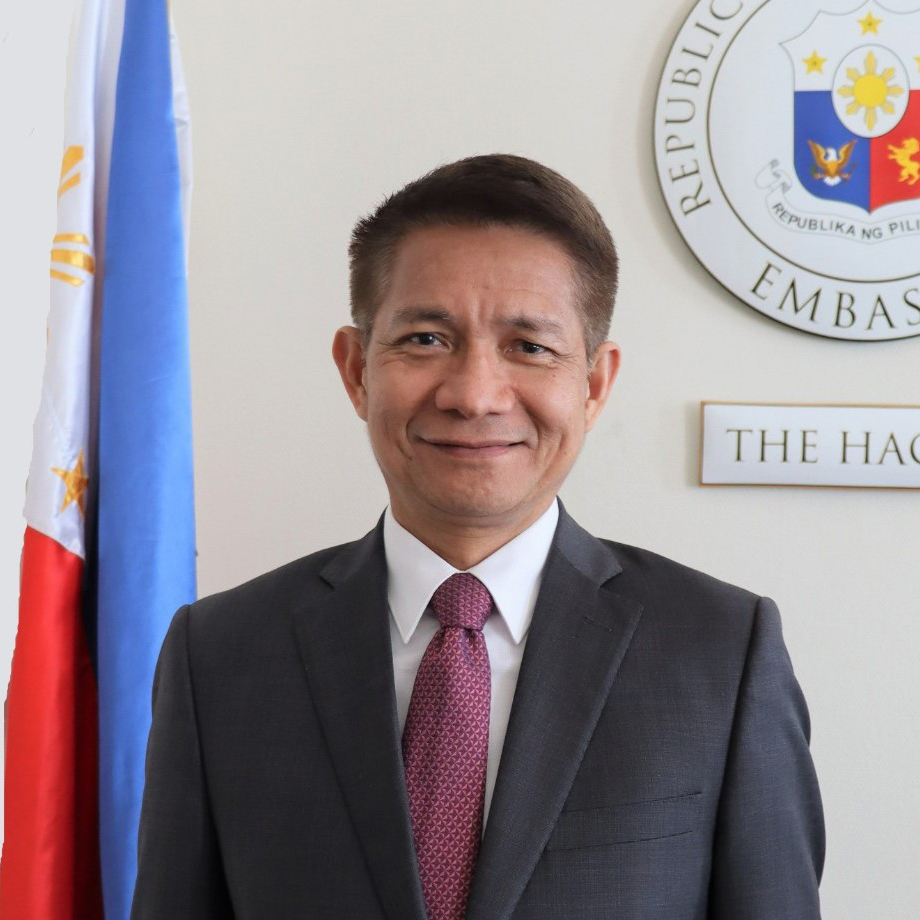 Ambassador J. Eduardo Malaya, a career member of the Philippine Foreign Service, commenced his diplomatic assignment in The Netherlands on April 7, 2021 upon the presentation of his credentials to HM King Willem-Alexander.
Ambassador Malaya was Undersecretary (Deputy Minister) of the Philippine Department of Foreign Affairs from August 2019 to March 2021 and Assistant Secretary (Director-General) for Treaties and Legal Affairs from April 2017 to July 2019. He was Ambassador to Malaysia from September 2011 to March 2017, and Foreign Affairs Spokesman from February 2009 to September 2011. He earlier served at the Philippine missions in New York, Brussels, Chicago and San Francisco.
He worked on the Philippine accessions to the Statute of the Hague Conference on Private International Law in 2010, the Apostille Convention in 2018 and the Service Convention in 2020, and the ratification of the Child Support Convention in 2022. He also led in the Philippine accession to the Convention for the Pacific Settlement of International Disputes in 2010, which paved the way for the country's membership in the Permanent Court of Arbitration.
He is Vice President of the Philippine Society of International Law (2017 to present) and a Member of the Editorial Board of the Philippine Yearbook of International Law (2017 to present). He was elected to the Executive Council of the Asian Society of International Law in August 2021.
He is the author/editor of nine books on international law, diplomacy and history, notably "Philippine Treaties in Force 2020"; "Treaties: Guidance on Practices and Procedures" (2019); "Enhancing International Legal Cooperation: Extradition, Mutual Legal Assistance, Transfer of Sentenced Persons, and Cooperation on Transnational Organized Crimes and Narcotic Drugs" (2019); "Stewards of the Nation: Aguinaldo to Duterte and their Inaugural Visions" (2018); "Forging Partnerships: Philippine Defense Cooperation in Constitutional and International Laws" (2017); and "Frontlines of Diplomacy: Conversations with Philippine Ambassadors" (2011).
He was accorded the rank of Datu (Gold Distinction) in the Order of Sikatuna in 2010 by President Gloria Arroyo and the rank of Dakilang Kamanong (Grand Cross) in the Order of Mabini (Gawad Mabini) in 2016 by President Benigno Aquino III. He is also a recipient of two Presidential Citations — from President Fidel V. Ramos in 1995 and from President Arroyo in 2010.
The Congress of the Philippines commended him, through House Resolution No. 34 dated 25 January 2017, for his "pro-active work, community outreach and leadership" as Philippine Ambassador to Malaysia. He received the Distinguished Alumnus Award (Public Service and Governance-Diplomacy) from the University of the Philippines in 2018.